Hungarian Village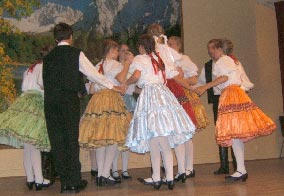 Welcome (‎fogadtatás)
We have been a proud participant in the International Villages Festival throughout the full year history of this event, and once again welcome all visitors to the Hungarian Village.

Sit back and enjoy a selection of lively, colourful and entertaining Hungarian music and dance presented by the Csárdás Dancers each evening, ranging from charming juniors to the fast paced and high energy performances of the Seniors. The Hungarian Hall on Albion St., has been the focal point for Hungarian immigrants who have arrived in Brantford and surrounding area for over seventy years. The club provides a variety of events throughout the year, which embrace tradition, and forge a link with our rich culture and heritage.

Enjoy wonderful Hungarian cooking including mouth-watering chicken, cabbage rolls, sausage, paprika, or parsley potatoes. Also including delicious Langos this year! Specials of the day provide additional opportunity to tantalize your tastebuds.


Hours
Wednesday: 5:00 p.m. to 10:30 p.m.
Thursday: 5:00 p.m. to 10:30 p.m.
Friday: 5:00 p.m. to 11:00 p.m.
Saturday: 4:00 p.m. to 1:00 a.m.
AIR CONDITIONED HALL
Hungarian Village Menu
Cabbage Rolls
Breaded Chicken
Debreceni Sausage
Potato of the day
Pickles
Vegetable
Bread with Butter
Desserts - assorted Hungarian pastries
Krémes (custard slices)
Coffee
Milk (chocolate)
Entertainment
Wednesday
Thursday
Friday
Saturday
6:00 p.m.
6:00 p.m.
6:00 p.m.
4:30 p.m.
7:15 p.m.
7:15 p.m.
7:30 p.m.
5:45 p.m.
8:30 p.m.
8:30 p.m.
8:45 p.m.
7:00 p.m.
9:45 p.m.
9:45 p.m.
10:00 p.m.
8:15 p.m.
9:30 p.m.
10:00 p.m. - 1:00 a.m.
DJ and Dance
Featuring – Csardas Dancers perform nightly, DJ and Dance Saturday night
Location
Hungarian Hall - 104 Albion Street
Download the Brantford Villages Map in PDF format**
** You will need Adobe Acrobat Reader installed on your computer.
Click to obtain Adobe Acrobat.
Sorry but we are not wheelchair accessible.
Contact Info:
Village Chairperson:Shari Biro
Village Co-chairperson: Andrea Lehocki
Village Mayor: Tracy Laczko
Village Ambassador:Alex Szilagyi
Village Co-Ambassador:Michael Laczko and David Biro
104 Albion St.
N3T 3M6
Call: (519) 752-7175