British Village
Welcome! - Howdy!
Welcome to the British Village.
We are one of the oldest villages that participate in the Brantford International Villages, joining in 1975.
At The British Village we show the entire national make-up of the United Kingdom, which includes:England, Scotland, Wales and Northern Ireland.
Each year we start with the raising of the Union Jack over Brantford. Which is comprised of the red cross of St. George of the Kingdom of England, the white saltire of St. Andrew of Scotland and the red saltire of St. Patrick to represent Ireland.
Our featured cultural entertainment and food is second to none. Classic Shows: Jake The Peg, The Grand River Cloggers, English Sing-alongs and The Queen's Own Whistlers (and, if the helicopter can land safely – special drop in appearances) Classic Food: Beef and Sausage dinners as well as home comforting dessert!
We Thank everyone who has participated in the Villages; the public, entertainers, and especially our volunteers. We hope everyone has a great time exploring all villages!
Hours
Wednesday - 5:00 p.m. to 10:30 p.m.
Thursday - 5:00 p.m. to 10:30 p.m.
Friday - 5:00 p.m. to 12:00 a.m.
Saturday - 4:00 p.m. to 12:00 a.m.
Showtimes
Continuous starting at 6:00 p.m. Saturday - Surprise Guest
Entertainment
The Queen's Own Whistlers; Jake The Peg; Grand River Cloggers; The Sing-Along, Our MC for the Village is Geph Mitchell.
Best of Britain Village Menu
World Famous Roast Beef dinner
Sausage dinner & all the trimmings
Coffee included with dinner
Desserts extra
Location
Army, Navy & Air Force Club, 645 Colborne Street
Fully air-conditioned and lots of parking
The host venue is the 'Army, Navy & Air Force Club Unit 341' - Which is a non-for-profit veterans organization founded in 1959. Which is located at 645 Colborne Street; immediately next to Pauline Johnson School.
You can also rent are all for all your event needs! (we offer on-site catering)
Download the Brantford Villages Map in PDF format**
** You will need Adobe Acrobat Reader installed on your computer.
Click to obtain Adobe Acrobat.
We are wheelchair accessible.
Contact Info:
Village Chairperson: Mary Eileen Webb
Village Co-chairperson: Diane Edge
Village Mayor: Logan Webb
Village Ambassador: Brieanna Stewart-Cook

Additional Information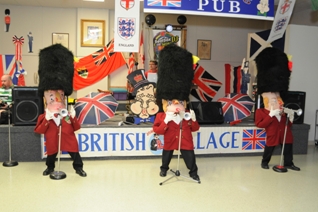 call 519-759-3503 or Email: ANAVETS341@outlook.com